_Natural Stone_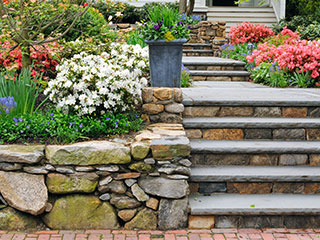 Companies like Metro Supply & Service supply high-grade wall stone to customers from Rockaway, Denville, Boonton, and Montville. Many clients from Kinnelon, Jefferson, Hopatcong, Wharton, Randolph, Morristown, and the surrounding areas source the supplies they need for their garden and landscape projects from here. The different types of stones you can source from them include:


Travertine
This stone is somewhat like marble/limestone and is available in a range of colors such as gold, walnut& ivory. You can choose from honed and tumbled finishes as well as porous and filled variants. This stone is perfect for outdoor applications and is found in different landscape features such as paving, wall stone blocks, slabs etc. It can be used in driveways, walkways, pathways, patios, decks, poolscapes and more.


Natural Stone Tile
While natural stone has an undying appeal, it can be quite heavy and more expensive than some other landscape materials. If you like the lookof natural stone, but need something lighter or more economical, natural stone tile is the material to opt for. These tiles are very much like standard ceramic tiles in terms of their structure and you can choose from smooth and textured finishes. They can be used to beautify concrete retaining walls, garden walls, exterior walls etc.


Stone Veneer
These are thin-cut stone slabs that look like stone tiles and are affixed to fireplaces, fire pit, retaining wall and other installations. You can choose from real stone veneer, twin stone veneer or manufactured stone veneer. All these are available in a range of colors, designs, and textures and it won't be difficult to find something that suits your needs and budget. These veneers are used to enhance the appeal of various outdoor features that are made of concrete, wood, and brick too.


Flagstone
This is a very popular natural stone used in both, commercial and residential projects. It looks great in formal as well as casual-style settings and is available in a variety of colors and shades. Flagstone is used for patios, driveways, walkways, poolscapes, decks, courtyards, entranceways and more. This hardwearing material is easy to maintain and lasts for a number of years without any trouble. It is available in slabs, paver units, as well as tile and veneer form and you can choose the variety that best suits the needs of your landscape project.

While natural stones are strong and durable, it's crucial to buy these from a credible company. This helps ensure the investment you make in these materials is well worth the cost. If you want outdoor spaces that are resilient and long-lasting, purchase all your natural stone supplies from reliable and well-established companies like Metro Supply & Service. They will be able to provide the natural stones you need, in the quantities you need them.